What a fun and Wonderful linky party to join!
Maggie over at
The White Farmhouse
is hosting a linky party for bloggers to Thank a fellow blogger for inspiring them!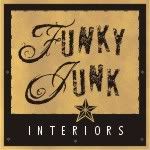 I would like to thank Donna at
Funky Junk Interiors
for inspiring me! I was brand new to blogging last fall and didn't really know where to start.
Donna was having one of her Saturday Night Specials and that weekend she decided it was "Anything goes" How lucky was I?! I had Fractal art on my blog. It didn't fall into crafty, DIY home redecorating. Not by what I had seen others post about. So I never participated. But ... Anything Goes means ANYTHING! So I linked up my artwork. Next thing I knew Donna featured one of my pieces WOW! I was so honored and excited!
Donna became my very first follower and I am so grateful for our blog friendship. Her style and her creations are like she is in my head!
I Absolutely LOVE Donna's style. It is so much like mine and the first thing that drew me to her blog was her entryway. She had linked it up to another blog and I followed it back to her place.
This
is what I saw .... WOW! This looks just like my entryway and exactly how I pictured it in my head how I wanted it! Donna already did it!
This
fireplace
is similar to what I want to do to ours. Not exactly and ours is so much different, but the stone concept is just what I want for our fireplace. How amazing is this?
Donna recently participated in So You Think You Can Decorate and created these amazing entries!
Just look at these
stairs
! I am drooling!
How could I NOT be inspired by Donna!
Funky Junk Interiors
is a daily read of mine.
Thank you Donna for inspiring me and for being a wonderful blog friend. I hope to one day meet you in person and I look forward to your inspiration.