Today is the Official Launch of my new venture and blog!
What perfect timing to launch Tangerine Totes with the milestone of my dear friend Donna at Funky Junk Interiors and her 2000th Follower!
Donna is having a party!
So head on over for the party and check out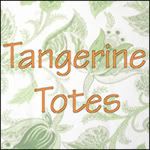 And stay Tuned for new items, styles and fabric choices! And of course, custom orders are available!
SPECIAL! Now through the end of May, all purses and Totes in my etsy shop are $25!